Atwood Lake, Mineral City, OH
Atwood Lake Park is managed by the Muskingum Watershed Conservancy District and a great place to enjoy a variety of outdoor recreational opportunities. It's an easy drive from Cleveland and Akron but the sailboats and fishermen come from further away than these cities. The lake combines the region's natural beauty with wonderful sporting opportunities for serious outdoorsmen and amateur sportsmen alike.
Camping is at the top of the list for a lot of visitors. The campground offers 537 sites. All of the sites but 15 are graveled. A few full hook-up sites are available that include electricity and sewer connections. No pets are allowed. Campers enjoy the showers and restroom facilities, a laundry room, nature trails and a mobile sewer service.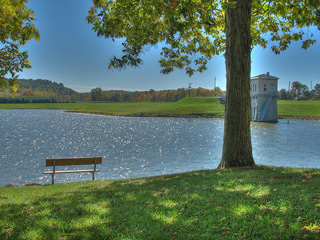 Atwood is a pretty lake with fairly good water quality. Most visitors on the water are swimming, boating and fishing. The park is also a great place for a day-use visit.
The fishing is excellent. Visiting anglers and the locals both know a good thing when they see it. The lake receives a healthy stocking of young fingerling saugeyes on a regular basis. The saugeyes grow fast in Atwood and provide anglers with good catches once the temperatures begin to cool off in the fall and the intensity of the sunlight lessens. Nearly a quarter million fingerlings are released during the stockings and fishermen regularly take home fish for the frying pan at around the 14-inch mark. Some 26-inch fish have been caught and there's likely bigger ones cruising the depths.
A white lead jighead tipped with a twister tail, minnow or nightcrawler are baits favored by the local saugeye anglers. Good electronics in the boat help to locate the schools of low-lying saugeyes that are found just about anywhere the water is deep.
Atwood has one of the state's only self-supporting northern pike populations and quite a few nice pike are caught every year. Look for pike wherever there's submerged vegetation. The northern pike is the lake's top predator and lies in weeds to wait for other fish to wander a little more closely than they should. Pike gladly ambush spoons, spinnerbaits and crankbaits right along with the prey fish. Handle these toothy predators with care since they're loaded with razor-sharp teeth that easily draw blood.
Largemouth bass and panfish round out the fishing opportunities on Atwood. Check for bass and panfish in the weedy shoreline cover and deeper beds of submerged vegetation.
Sailing is a popular water sport here since the lake doesn't allow high-power recreational boating. A 25 horsepower limit is in effect. Boat rentals are available.
The public launch is at the dam for those who trailer in their own watercraft. Two marinas provide everything boaters are going to need on the lake.
Atwood also offers premium golfing opportunities on the park course. Pack a few golf clubs and spend time enjoying this nice 18-hole, par 70 course. The golf course caters to every skill level from beginning golfer on up to the pro. There is a par 3, nine-hole course for families and beginners while more experienced golfers enjoy the 18-hole regulation course. A lighted driving range is located on site.
Other park amenities include tennis courts that offer hours of fun and competition. Two miles of wooded hiking trails and wide open spaces allow visitors to stroll peacefully in the quiet of the Ohio countryside. The park offers a sandy beach, changing room with showers, picnicking in shelters and a playground.
Take a tour of the dam and see how it operates. Tours require permission of the dam supervisor and advance arrangements. The dam was constructed in the 1930s to conserve water resources and control flooding and the resulting lake is now a popular water sports destination.
The Atwood Lake Resort on the lake is owned and operated by the MWCD. The resort is the perfect launch pad and center of operations for families who want to spend a few days in the park. The resort offers 104 rooms and 17 four-bedroom cottages with a view of the lake available. A beautiful indoor swimming pool comes in the package.
Atwood Lake covers 1,540 acres near Mineral City in Carroll and Tuscarawas counties. It has 28 miles of scenic shoreline to explore. The lake is located 10 miles east of Interstate 77 at exit 93 on State Route 212 East.
There is a small admission fee at the gate per car.
For more information contact the Atwood Lake Boats West marina at (330)364-4703 and the Atwood Lake East marina at (330)735-2323. The resort can be reached at 1-800-362-6406 or visit online at www.atwoodlakeresort.com. A restaurant is located at Atwood Lake West.
Contact the MWCD at (877)363-8500 or locally at (330)343-6780 for additional information. Reservations at the resort can be made by calling or emailing at atwood@mwcdlakes.com.
Other local Corp of Engineer lakes: Beach City, Leesville and Tappan or visit the Ohio Lakes page to see even more great lakes to visit.
Photo:
http://www.flickr.com/people/fusionpanda/
shared under a Creative Commons license (Attribution-Share Alike 2.0 Generic). Thanks for sharing fusinopanda!
Land Unit:

State:

State Tag: