Alum Creek Reservoir, Lewis Center, OH
Alum Creek Lake
The U.S. Army Corps of Engineers created Alum Creek Lake for flood management, with recreation planned as a part of its benefits. The practical result is a popular unlimited horsepower destination that serves the central Ohio area. In fact Alum Creek Reservoir is one of central Ohio's most popular fishing, boating and camping destinations. The lake was created in 1974 through the construction of an earth-filled embankment 10,000 feet long and 93 feet high. The lake formed behind this berm is 3,387-acres at bank full.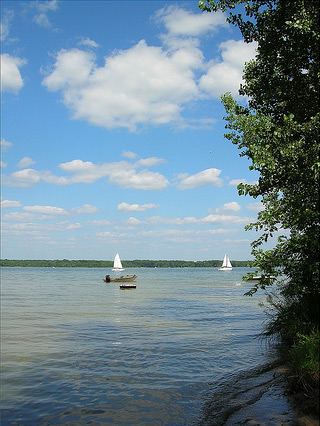 Alum Creek State Park
Camping
The Alum Creek State Park campground fits well along the shores of the lake. There are 286 electric campsites, with 50-amp hookups, and most are partially shaded. Some campsites have nice views of the lake. Campers enjoy many amenities like heated showers, clean restrooms, a playground, horseshoe pits, and nature programs presented by the park's naturalist. Three of the camp sites offer full hookup service with sewer, water and electric connections. There is also a dump station available for RVers. Boating, swimming and camping spots are designated by the park for use by campers. A group camp is available for larger gatherings and for equestrian campers there are 30 primitive campsites. For those that want to enjoy an overnight stay but are less inclined to sleep on the ground, the state park offers three cedar cabins and five camper cabins.
For campers with dogs that find their pet getting restless, the state park has a 4-acre dog park. It is found near the marina and includes fenced off areas and water access designed for canine visitors.
Trails
There is a well developed trail system in Alum Creek State Park. Two pedestrian hiking trails provide a nice place for strolling. Mountain bike trails range from easy to difficult and the multi-purpose trails are designed for activities that include cross-country skiing, dog sledding, hiking and snowmobiling. There are 38 miles of bridle trails for the riding crowd.
Other Facilities
Additional visitor amenities include the shelter houses by the dam and eight lakeshore picnic areas with tables, drinking water, grills and restroom facilities. The 3,000 feet of beach makes it Ohio's largest state beach. It has an on-site concession stand, sand volley ball courts and a shower house. The New Galena launch ramp offers an 18-hole disc golf course.
Hunting
Hunters will find squirrels, whitetail deer and rabbits in abundance. A hunting map is available from the park office that outlines where one can and cannot hunt.
Fishing Alum Creek Lake
Anglers target rock bass, pumpkinseed sunfish, long-eared sunfish, green sunfish, bluegill and black crappie throughout the lake but the real attraction here are the saugeyes. The saugeyes generally run about a pound and measure from 13 to 18 inches. A former state record fish was caught in 2002 that weighed over 12 pounds. Jigs tipped with minnows, blade baits and Rat-L-Traps are standard fare.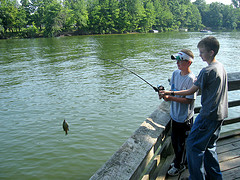 Crappies are the most abundant panfish species and range up to 12 inches. Tip small jigs with minnows and larval baits and fish along the east bank above Cheshire Road and into Big Run Cove. The woody cover above the State Route 36/37 causeway is another productive spot. The new 30-fish daily bag limit and 9-inch minimum length limit is in effect.
Bluegills can be taken by dropping a line in the submerged vegetation, rock outcroppings or woody cover.
Alum Creek is one of Ohio's best muskie lakes. These huge predators are usually found in the lower basin between the Cheshire Road causeway and the dam. They easily reach 30 inches and potentially hit the 50-inch mark. Use big crankbaits, bucktails and spoons.
The lake has a good population of both largemouth and smallmouth bass. Drop-offs with tree stumps are the most productive spots for largemouth bass. Use soft plastics, crankbaits and jig-n-pigs. Smallmouth bass are on the drop-offs near the dam and are taken with tube and grub baits.
Expect white bass in the 9- to 14-inch range above Howard Road using minnows, jigs and small spinners. When you locate an active school the action is fast and furious.
The lake has a fair share of channel catfish in the Big Run Cove area and above the causeways. Use a stinkbait or gob of earthworms.
Ice Fishing
Most of the ice fishing at Alum Creek involves anglers looking for crappies at the New Galena Launch Ramp located on the southeastern end of the lake. A smaller number of anglers try for saugeyes in the Hollenback Marina Cove area on the lake's southwest side and near the Cheshire Launch Ramp just north of Cheshire Road.
Boating
On any warm day visitors will see pleasure boats, pontoons and sailboats cruising the placid surface of the lake. The 46 miles of shoreline are a scenic back-drop of forested sections and shale cliffs.
The state park maintains boat launch ramps off Africa Road, north of Cheshire Road, south of Howard Road and off Lackey-Old State Road north of Peachblow Road.
Getting There
Alum Creek is accessible from I-71 via the State Routes 36/37 exit. Other access is from State Route 521, Cheshire Road, Hollenback Road and Lewis Center Road.
For more information contact the Alum Creek State Park at (740)548-4631 or (740)548-4039.
Other local Corp of Engineer lakes: Delaware and North Branch of Kokosing River or visit the Ohio Lakes page to see even more great lakes to visit.
Photo's:
lake, boat, and sky: http://www.flickr.com/photos/spisharam/
two boys fishing: http://www.flickr.com/photos/michaelpeirce/
both shared under a Creative Commons license (Attribution-Share Alike 2.0 Generic)
Land Unit:

State:

State Tag: